Superior quality of care for enhanced patient comfort.
As a periodontist trained in microsurgery, Dr. Cross uses high levels of magnification for greater visibility in every treatment he performs. This additional level of detail allows Dr. Cross to comfortably access areas that would remain untouched with traditional techniques alone.
About J. David Cross, DDS
Dr. Cross is the first periodontist in the Springfield area and the midwest to introduce advanced microsurgery to periodontal procedures. The microscope allows Dr. Cross to see small details that are easily missed with traditional methods alone. Every scaling and root planing, tissue graft, bone graft, and dental implant, is gentler yet more thorough with little to no downtime for all procedures.
Dr. Cross is a board-certified periodontist with more than twenty five years of experience. He has become an expert in periodontal microsurgery and travels throughout the country to lecture about the reduced healing time and improvement in patient care that can be achieved when it is applied knowledgeably. Dr. Cross travels both nationally and internationally to continue learning about periodontal microsurgery from the world's leading practitioners. His Springfield practice offers superior quality of care with atraumatic treatment options for a faster recovery.
---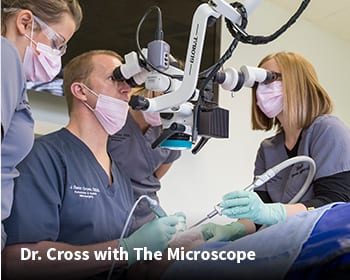 Dr Cross' Specialties
Dr. Cross concentrates his field of knowledge on a handful of specific procedures to provide him with an in-depth understanding of how to treat any case, no matter how challenging. Because gum disease can destroy tissue, bone, and cause tooth loss, the goal of each procedure is to preserve as much of your natural tooth, tissue, and bone as possible. This begins with a comprehensive periodontal examination to determine the extent of damage and if repair or restoration is needed.
Dr. Cross evaluates each case with unparalleled attention to detail. The magnification of the microscope allows him to use smaller, more precise instruments that preserve the tooth structure, tissue, and bone, all while keeping you comfortable.
EXPAND
CLOSE
Periodontal Disease Treatment in Springfield
---
Gum disease is a progressive condition with treatment that varies from a deep cleaning to the complete restoration of your natural teeth with dental implants. Dr. Cross considers the long-term health of your teeth and gums before performing each procedure, providing you with the treatment that maintains healthy gum tissue to preserve teeth and bone from damage caused by advanced gum disease.
Gum Recession
---
Your gums protect your teeth from bacteria that may cause a host of problems ranging from mild sensitivity to tooth loss. Dr. Cross draws from twenty-five years of clinical experience and microsurgical techniques to restore your gum tissue and preserve your dental health.
Immediate/Same-Day Dental Implants in Springfield
---
In addition to the procedures mentioned, Dr. Cross provides surgical treatment to prepare for dental implants. This includes a bone graft to replace lost bone, sinus lift to make ample space for dental implants, and ridge regeneration to create the right fit for your dental implants.
Previous
Next
How To Reach Us
---
2904 Greenbriar Drive
Springfield, Illinois 62704
Tel: (217) 793 - 0196
Fax: (217) 793 - 5344
Monday - Thursday
7AM - 4:30PM
Friday
7AM - 11AM