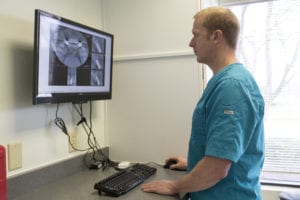 Springfield residents interested in dental implants often find there's a lot of information on the Internet about dental implants. Unfortunately, not all of this information is true. In order to help debunk some of the most common myths about this built-to-be-permanent tooth replacement system, Dr. Cross has prepared this blog post for you.
Myth #1: You Can Only Get Dental Implants for Oral Health Reasons
While many patients choose dental implants if they have a missing tooth or a tooth or teeth that need to be extracted, that's not the only reason why patients choose dental implants. In fact, every year Dr. Cross works with several local residents who desire a complete smile makeover. These patients, who are often unhappy with the look of their teeth, find that the advanced functionality and realistic-looking results of dental implants finally give them a smile that is naturally aesthetic.
Myth #2: It Takes Months for Everyone to Get Dental Implants
In some cases, patients may require pre-surgeries like a jawbone tissue graft or sinus lift before getting dental implants, or they may require dental implants to be placed in stages. However, that isn't true for everyone. Some of the patients that Dr. Cross works with are able to get all their dental implants placed in just one day. Whether or not you are a candidate for one-day dental implants placement is going to depend on your unique oral health. Only a consultation with Dr. Cross can answer whether or not you are a candidate for same-day dental implants placement.
Myth #3: Everyone Will Know You Have Fake Teeth
Many Springfield residents who are considering getting dental implants placed are concerned that their teeth will look completely fake to the naked eye, or that they'll slip and slide like dentures commonly do. The truth is, you don't have to worry about these complications with dental implants. Implants are covered with realistic tooth looking crowns, so your smile will look as natural as possible. Additionally, since your implants are rooted into your jawbone, there's no risk that they'll slip and slide as you talk and eat. You can even bite down on peanut brittle with dental implants without worrying about them moving or shifting!
Ask Dr. Cross About Any Other Myths You've Heard
It's true – pretty much everything possible is out there on the Internet, and unfortunately, some of it is untrue. If you've heard of a different dental implants myth that wasn't addressed in this blog post, ask Dr. Cross about it during your initial consultation with him. As an experienced periodontist who practices in the Springfield area, not only is he very knowledgeable about the procedure, but he's heard pretty much every question and myth there is about this procedure.
Don't be afraid to ask Dr. Cross your questions about dental implants, even if you think they are silly. He wants you to be as informed as possible before you choose to get these built-to-be-permanent tooth replacement systems placed.
To schedule an initial appointment with Dr. Cross about dental implants, contact our office in Springfield today. We can be reached at (217) 793-0196.