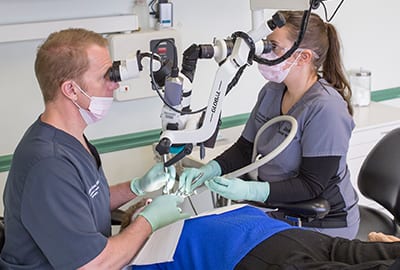 If you're a Springfield, IL resident who's decided to get dental implants, you've likely found this page because you're looking for a dental implant dentist to perform your treatment. There are 5 things you need to look for when searching for and choosing an oral healthcare provider to place your dental implants.
 1. What Type of Dental Experience Does He or She Have?
These days, all types of dental health care providers perform dental implant surgery. Some are general dentists, who have limited education and training in the procedure. Others are periodontists like Dr. Cross or even oral surgeons. A periodontist can have additional academic education, training, and a graduate residency experience in the placement of dental implants and will know what pre-procedure you may need. Make sure you know the exact credentials of every oral health care practitioner you consult with before choosing someone to place your dental implants.
 2. Is Your Oral Health Care Provider Experienced with Microsurgery Techniques?
The latest technology in the field of periodontics is microsurgery, and Dr. Cross is the only dental specialist in the Springfield area and the state of Illinois who has been trained and practices this specialty. In fact, Dr. J. David Cross, DDS was the first practitioner in the area to offer these advanced techniques to local patients. Microsurgery is important because the advanced microscopes help your dental implant dentist make smaller incisions and more precisely place the dental implants, providing you with a more comfortable experience and reducing your healing time.
 3. What Past Patients Say About Him or Her?
You can learn a lot about a dental implant dentist by reading reviews from their other Springfield area patients. Dr. Cross has a number of positive reviews featured on his website, all from patients who have had a variety of periodontal procedures performed, including dental implant placement. With so many positive reviews by patients and their families, you can trust that Dr. Cross will provide you with advanced level of care that he has provided others with since 1990.
 4. How Informed Do You Feel After Meeting with Your Potential Oral Health Care Provider?
Getting dental implants is a big decision. For some, it could mean committing to multiple treatments before finally achieving that perfect smile. For others, just the thought of having implants may cause dental anxiety. One question you should ask yourself after meeting with a potential dental implant dentist is how informed you feel about the treatment after your initial meeting. Do you feel like the procedure was properly explained to you? Did you feel rushed during the appointment? Do you still have questions that you weren't able to ask? Dr. Cross cares deeply about ensuring his dental implants patients in Springfield are well informed about their upcoming procedure, and that they aren't left with unanswered questions. If you wish to have Dr. Cross provide a complete examination and thorough consultation, please contact his office to schedule an appointment.
 5. Ask for a Before and After Gallery
As the old saying goes, a picture is worth a thousand words. If you're interviewing providers for your dental implant treatment, you should ask to see their before and after photographs or gallery. This will give you a better idea of the particular provider's clinical skill and experience in properly placing dental implants.
Reach Out to Dr. Cross Today
Whether you're just getting started on your search for an oral health care provider to place your dental implants, or you've already consulted with a dentist or periodontist but were left feeling like there was something left unsaid, we encourage you to call for an appointment with Dr. Cross. For years, Springfield area residents have trusted his additional training and experience to get the lasting smiles they desire.
You can schedule an appointment today by calling (217) 793-0196.